AERAS
AERAS Software Defined Payload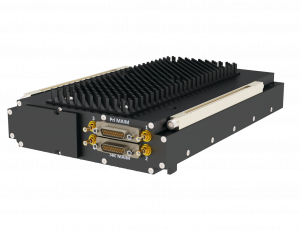 AERAS Software Defined Payload (SDP) is a MOD Payload Standard v5.0 compliant, multi-mission capable platform in an ultra small 1U footprint. It features a 4-channel wideband super-heterodyne receiver with independent and phase coherent tuning. AERAS SDP is capable of providing support to several RF missions to include RF I&Q Recording, Cellular Network Survey, Cellular Collection and Digital Push-To-Talk.
Cellular Network Survey Leveraging G3T's industry leading Cellular expertise, AERAS is fully capable of multi-band, multi-protocol, 2G/3G/4G/5G Cellular Network Survey. AERAS Cellular Network Survey detects and decodes broadcast channels for: GSM, CDMA, EvDO, UMTS, LTE and 5G.
It will identify new cells quickly with no lengthy synchronization period, decoding overhead parameters while constantly logging signal strength, signal quality parameters and other cell signaling information. AERAS Cellular Network Survey is fast enough to provide the best UAV based network scanning performance. It also supports local and remote control from the ground via the UAV comms link while in flight or on station. All cellular network survey information can be output to .csv, .gns & .g3ns files that are fully Rover and Raptor compliant.
*RF I&Q Recording One of the missions the AERAS comes standard with out of the box is the ability to record the RF spectrum for further post-mission processing. Digitizing the RF noise floor and converting this data to the Industry standard VITA-49 file format allows the user infinite flexibility for handling signals of interest. AERAS can be tasked to record user defined portions of the RF spectrum up to 6GHz in raw IQ format. VITA-49 data may be fed into existing GOTS and COTS systems.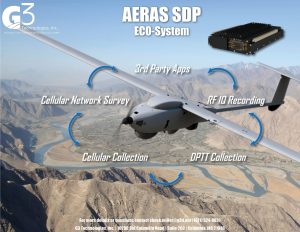 VITA-49 recordings may by analyzed using G3T's "File-Based Processing" to pull out known SOIs or unknown anomalies in the RF environment. Desired SOIs may be fed into G3Ts Tactalytics analysis suite or set aside for further analysis. File-Based Processing both reduces processing time and time stamps processed activity with the time it was recorded vice the time it was post processed.
*Cellular Collection The AERAS Cellular Collection Suite is a very small and powerful 2G/3G collection solution. It can collect full content on GSM and CDMA protocols and collect metadata for UMTS. This collection suite enables state of the art cellular collection to include advanced analysis software capable of bulk Call Data Record (CDR) processing, link analysis, and Pattern of Life (POL) functions. Once configured, the AERAS Cellular Collection Suite vigilantly monitors, processes, organizes and stores the air interface activity. The user interface enables users to quickly and intuitively search though and make sense of massive amounts of collected data, making it a truly tactical cellular collection capability suitable for fast moving, forward deployed, untethered, airborne operations.
*Digital Push-To-Talk The AERAS DPTT Collection Suite is a powerful Push-To-Talk (PTT), Digital Push-To-Talk (DPTT) and Trunked Mobile Radio (TMR) collection platform that provides RF signal processing technology with an intuitive, user-friendly interface and advanced metadata analytics. AERAS DPTT Collection Suite provides automatic detection, collection and processing of analog and modern DPTT and TMR signals including DMR (MOTOTRBO, HYTERA), NXDN, P25 (phase 1 and 2) and D-STAR.
It is capable of scanning and identifying signals of interest (SOIs) and can also extract metadata from the digital protocols and provide voice & SMS content. Once configured, it monitors, processes, organizes and stores the air interface activity. The user interface enables users to quickly search though and process massive amounts of collected data, making it a truly tactical DPTT collection capability.
*3rd Party Application Support AERAS SDP is designed to be compatible with 3rd party applications as well as user defined, custom and sensitive capabilities. It comes with both an Interface Control Document (ICD) as well as a Software Development Kit (SDK) that can be used to either develop new capabilities on our software defined payload or to take existing capabilities and adapt them to our robust flexible platform.
*indicates future capabilities on our roadmap
AERAS SDP Cellular Survey Technical Datasheet
[Download PDF]
To request a full datasheet or formal quote, please contact us.