Pacer P100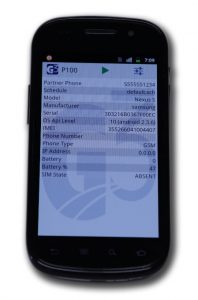 G3T's P100 is an Android based application running on a commercial phones that allows users to pair devices to create and execute scripted scenarios to generate real cellular network traffic in a repeatable manner. P100 supports various commercially available Android phones providing ability to support most commercially deployed technologies (GSM / GPRS / EDGE, CDMA / EVDO, WCDMA / UMTS / HSPA, LTE FDD, LTE TDD, and 5G) and bands.
Key features of the P100 include:
Create real life network activity
CS Features: Incoming / outgoing Calls, VoLTE calls, SMS
PS Features: MMS, HTTP events, ping's, VOIP and video calls
Create customized schedule of events for each phone
All activity and events logged
Pair devices – call and send messages between devices
Create unique Wav file to play as source for calls
Technologies and bands can be individually enabled / disabled to customize of loading scenarios
Can concentrate phones on specific cells or scatter throughout network
Multiple P100's managed from single controller (S100) remotely over WiFi
G3T's P100's provide cost effective and scalable solution for network traffic. Easily increase network traffic by adding additional P100 devices.
To request a full datasheet or formal quote, please contact us.