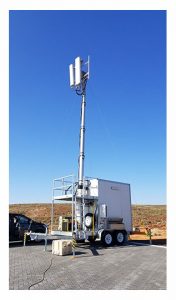 G3T offers a wide range of private commercial wireless test and training systems. The Pacer network solutions are ideal for establishing comprehensive environments for GSM/GPRS/EDGE (2G), CDMA/1xRTT/EVDO (2.5G), UMTS/HSPA (3G), LTE (4G) and 5G. Pacer's virtualized network core and components are scalable from single radio access technology (RAT) and single site networks to multi-RAT, multi-site networks supporting a single MNO to multi-MNO configurations. Our solutions can seamlessly integrate into any existing infrastructure or act autonomously as a standalone solution.
The Pacer test and training solutions include powerful analysis tools for call, registration, SMS and data logging, voice recorder modules and logging of individual mobile subscriber activity details. The Pacer system includes user-friendly, intuitive GUIs for system setup and control of the network as well as real-time display of all network activity. The user has control of the overhead messaging broadcast by the network, allowing it to be configured to replicate any Mobile Network Operator (MNO) worldwide.
System Features include:
Controller
Easy to use GUI manages entire network, all Ue's and subscribers from single application
Manage all BTS/RAN settings for all nodes and all technologies
Generates Activity/Event logs for all technologies
System Health and Status
HLR/VLR management, import and export
Ue, SIM and Subscriber parameters
Authentication and Encryption settings/parameters (and special assignment features)
TRAU settings – Rates and Codecs (per technology)
Common Services
SMS/MMS (and special SMS features)
MGW
SIP/VOIP Connection to/from cell phones connected to network loop back
VoLTE
Special Test Network Features
Loopback calls
Scheduled/automated control of Authentication and Encryption parameters
Special SMS features
VOIP based automated call generation
Easy access to Overhead parameters
Common / Shared Data Server
Internal Web Server (HTTP) (Internal Webpages, Videos, speed test, etc.)
Internal FTP Server
DHCP Server
External network (WAN, Internet) Connectivity
Examples of customized deployments
Please contact G3T for available options.