Tetley FEM
Multi-band, 5G NR mmWave Frequency Extender Module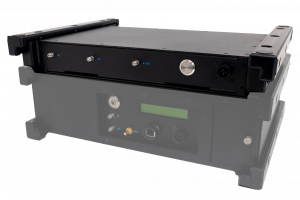 The Frequency Extender Module (FEM) is a powerful autonomous add-on module that enhances the existing capabilities of our 5G-capable Tetley Scanners. It allows Tetley Scanner to survey 5G FR2 frequencies in mmWave range between 26.5GHz – 43.5GHz for real-time and post-processing analysis. The FEM seamlessly integrates with the Tetley Scanner with minimal user interaction required. It digitally down-converts 5G New Radio FR2 frequencies and displays them on the existing user interface along with all 5G overhead messages following the 3GPP specification.
Once configured does not require swapping of RF cables to support sub 6 GHz and FR2 survey. Both Tetley Scanner's FR2 an­tenna and the High band antenna (3 to 6 GHz) are connected to FEM unit. FEM supports FR2 bypass mode that allows it to route 3 to 6 GHz signals from the High Band antenna to Tetley Scanner. Controlled by Tetley Scanner via USB interface.

The FEM kit is compact and portable, making it ideal for drive-testing 5G mmWave operating between 26.5 GHz – 43.5 GHz.
Tetley FEM Technical Datasheet
[Download PDF]
To request a full datasheet or formal quote, please contact us.